This clever recipe offers a plant-based twist on a traditional cooked breakfast!
It's just as quick and easy as the brekky classics we know and love, thanks to a few simple plant-based swaps.
Recipe
First, we have the tofu scramble.
Tofu scramble is a popular plant-based alternative to scrambled eggs. It's super simple to make, high in protein, low in fat, and completely cholesterol-free.
We recommend straining your Macro Silken Tofu well before cooking. Gently break the tofu up just enough, so that it resembles the texture of scrambled eggs.
Next, add your seasonings. Level up your plant-based brekky game by adding turmeric and nutritional yeast to your tofu scramble for that recognisable golden colour that looks great on a plate.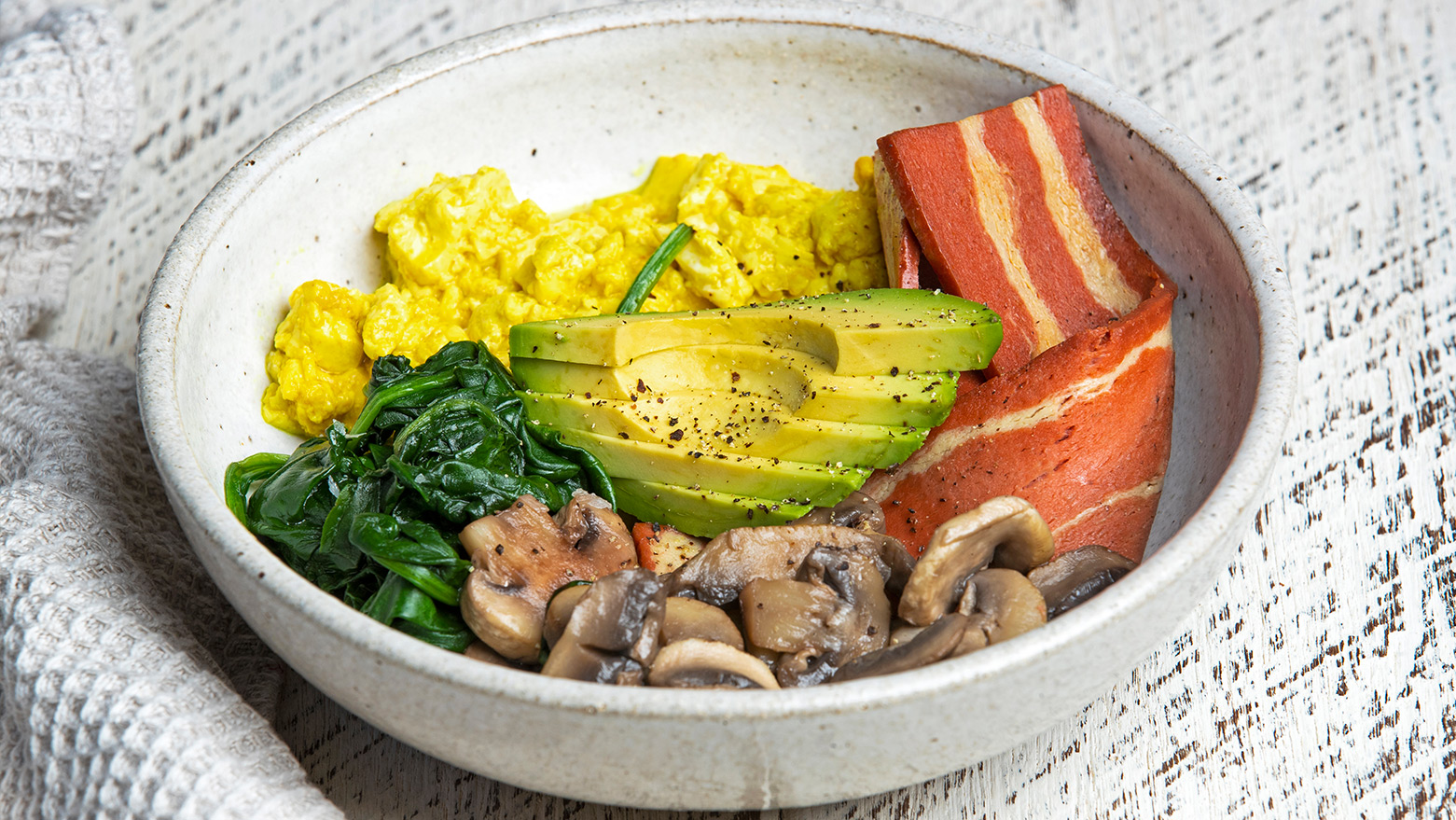 200g Made With Plants Bacon
150g button mushrooms, sliced
And now for the part you're probably most curious about, the plant-based Bacon!
Meat-free bacon? That's right — some say they'll believe it when pigs fly. But it's possible, with the help of plant-based ingredients such as soy and wheat!
As the name suggests, it cooks, tastes and smells just like traditional bacon, only it's made with plants! In fact, soy protein has a naturally neutral flavour, making it an excellent base for many meat alternatives.
Made With Plants Bacon is an absolute game-changer if you love the taste and texture of bacon, but are trying to eat more plant-based foods. This crispy, streaky, meat-free bacon is American-style and sure to satisfy.
Thanks to a few secret herbs and spices, you can enjoy the unmistakable flavour of bacon with an authentic mouthfeel, that's just like the real deal.
Cook it just like you would traditional bacon, making sure to let it crisp up on both sides. Made With Plants Bacon only takes a few minutes to cook in a hot pan!
Finish your plant-based brekky with cooked spinach, mushrooms and fresh avocado. Arrange all your ingredients in a bowl, and enjoy!
Tofu Scramble
1 tsp extra virgin olive oil
250g Macro silken tofu
1 tbsp Macro nutritional yeast
¼ tsp turmeric
½ tsp sea salt
To Serve
200g Made With Plants Bacon
150g baby spinach
1 avocado, sliced
150g button mushrooms, sliced
First, strain the liquid away from the silken tofu.
Coat frypan with olive oil and bring to a medium heat. Once hot, add the silken tofu and break up gently with a fork – not too much that it completely loses shape though.
Add turmeric and sea salt to pan and gently stir through the tofu as it cooks. Tofu should become a golden colour and begin to resemble scrambled eggs.
Add the nutritional yeast and stir through. Remove scramble from the heat and set aside, covered to keep warm.
Coat a separate frypan with extra virgin olive oil and bring to a medium heat. Add strips of Made With Plants Bacon and fry on each side.
As the bacon cooks, move to one side of the pan and add in button mushrooms. Drizzle a small amount of olive oil over the mushrooms and stir occasionally to cook evenly.
Once the bacon and mushrooms are cooked, push to one side of the pan and add in the baby spinach. Cook baby spinach until wilted. Turn off the heat.
To serve, arrange scrambled eggs, bacon and spinach to a bowl and top with avocado slices and season extra salt and pepper to taste.