These mouth-wateringly good Bacon Sliders are not only delicious but 100% plant-based! With these burgers you won't feel like you're missing out on anything. Our Made With Plants Burger sauce, brings the sass to these sliders. A little bit creamy, a little bit spicy and a whole lot of flavour, this burger sauce takes this recipe from pretty good to out of this world delicious.
Recipe
If easy recipes are your game, then this one has your name on it. It's as simple as:
mixing together our Meat Free Mince with some herbs, spices, mustard and Made With Plants Burger Sauce,
forming the mixture into burger patties and frying in a hot pan followed by frying some of our Made With Plants meat free bacon,
serving on your favourite slider buns with avocado, mixed lettuce leaves and extra Made With Plants Burger sauce of course!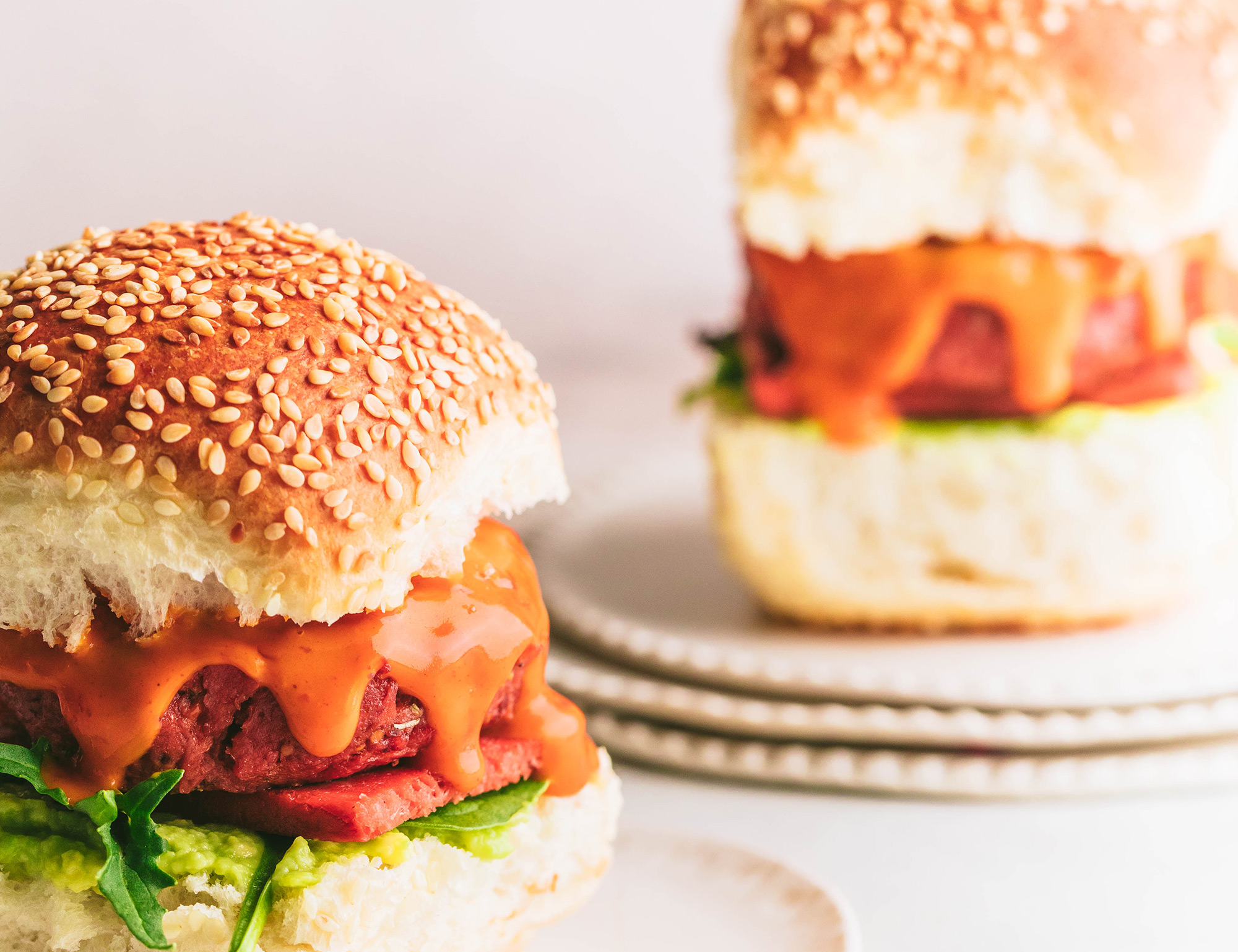 Made With Plants Meat Free Bacon
Made With Plants Burger Sauce
These burger patties can be used in a bunch of different ways. You could:
Skip the buns and use iceberg lettuce leaves instead for a lower carb version of this Plant Based Slider.
Not in the mood for a burger? Serve with salad for a delicious take on a nourish bowl.
Use the burger patties & bacon on a toasted wrap.
Add some grilled pineapple to these sliders for a Hawaiian twist.
Serve these sliders with some delicious sides like:
Grilled corn on the cob
Sweet Potato Fries
A simple garden salad
Curly fries
Hold the Meat but not the protein please. Our Meat Free Mince is a high protein, yet plant based and 100% vegan alternative to regular mince, meaning you will feel completely full and satisfied after eating this dish.
Avocado is full of healthy fats and antioxidants while lettuce provides an array of micronutrients to nourish your body from the inside.
But enough talking, let's get cooking!
Burgers
400g Made With Plants Premium Mince
1 tsp dried rosemary
1 tsp dried thyme
1/2 tsp sea salt
1/4 tsp cracked black pepper
1 tbsp seeded mustard
2 tbsp Made With Plants Burger Sauce
2 tbsp extra virgin olive oil, for frying
To Serve
4 tbsp Made With Plants Burger Sauce
2 cups mixed lettuce leaves
1 avocado, mashed
200g Made With Plants Meat Free Bacon
8 slider buns, cut in half
To make burger patties, place mince, burger sauce, rosemary, thyme, salt, pepper, seeded mustard and dijon mustard in a medium sized mixing bowl. Use clean hands to mash together until evenly combined.
Divide the mixture into 8 and form into patties, placing each patty onto a large plate.
Drizzle olive oil into a frypan and bring to a medium heat. Add 4 patties to the pan and fry for 5 minutes on each side. Transfer cooked patties onto a clean paper towel lined plate. Repeat with remaining patties.
Once all patties are fried, add bacon to the pan and fry for 2 minutes on either side. Turn heat off but leave bacon in pan until ready to serve.