Made using the Made With Plants smooth, classic and creamy Mayo, this delicious Mashed Chickpea Mayo Sandwich is 100% vegan and 200% flavour! Using flavoursome ingredients like Mayo, cumin and coriander, this egg and lettuce sandwich with a vegan twist will not disappoint.
Recipe
In a quick three steps you will have a delicious, high protein, plant-based lunch. Simply mash the chickpeas in a large bowl, stir in the Made With Plants Mayo, cumin, sea salt, cracked pepper and coriander before serving on your favourite Vegan bread with mixed lettuce leaves and sprouts. It really is that easy!
To save time, we recommend using canned chickpeas, however if you have some more time to spare you can use dried chickpeas. To do this you will need to:
soak about 1 cup of dried chickpeas overnight
rinse the chickpeas under clean water the following day
add the chickpeas to a saucepan and top with clean water
place the saucepan lid on and bring to a boil, boiling until the chickpeas are soft and tender
Once the chickpeas are tender, simply strain them before following the steps of the recipe.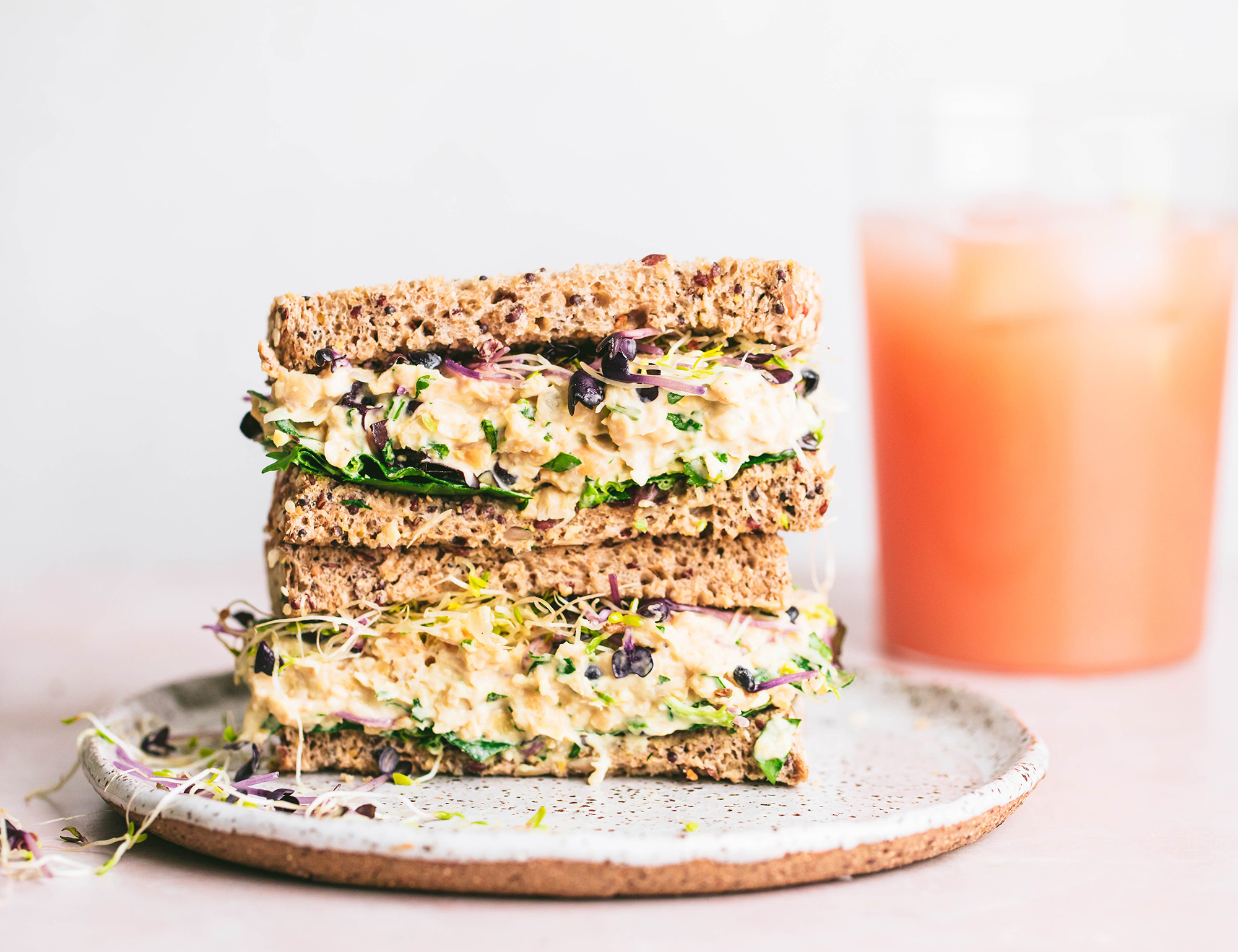 mixed lettuce leaves and sprouts
This recipe is so versatile! Here are some other ways you can use the mashed chickpeas & Mayo:
Add to a wrap with avocado and baby spinach and then toast on a sandwich press.
Ditch the bread and make a salad instead, topping it with the mashed chickpeas.
Use these mashed chickpeas as a dip served with your favourite crackers and veggie sticks.
Make a delicious vegan toasty by topping your favourite bread with the mashed chickpeas, some vegan cheese and a second piece of bread, toasting until the cheese is melted.
See? So much delicious fun to be had from one simple recipe.
Save yourself some time during the week by making the mashed chickpeas ahead of time and storing in an airtight container in the fridge (they will keep well for 4 days). Pull out of the fridge and create this delicious sandwich in just 5 minutes as needed or use the mashed chickpeas for one of the serving suggestions listed above.
Health Benefits
Did you know that chickpeas are an excellent source of plant-based protein? They are also a great source of in fibre, complex carbohydrates, calcium and magnesium, making them a healthy and nourishing meat-free food.
Time to get cooking!
Cheese Cake Parfait
400g tin chickpeas, strained and rinsed
1/3 cup vegan mayo
1 tsp cumin
1/4 tsp sea salt
1/4 tsp cracked black pepper
Small handful coriander, finely chopped
To Serve
2 cups mixed lettuce leaves
1 cup mixed sprouts
8 slices of bread of choice
To make mashed chickpeas add chickpeas to a medium mixing bowl and roughly mash with a fork or potato masher until
Add vegan mayo, cumin, sea salt, pepper and coriander to mashed chickpeas and continue mashing until all ingredients are well combined.
To serve, top a slice of bread with mixed lettuce leaves, mashed chickpeas and sprouts. Top with second slice of bread. Eat straight away or place in airtight container until ready to eat.
Notes: Mashed chickpeas keeps for approximately 4 days, covered and refrigerated.