Who says that eating Vegan means missing out on flavour? Not us! Served with our Made With Plants 100% egg and dairy-free Ranch, these Spicy Cauliflower Wings make for a delicious starter or side dish. Impress even your meat-eating guests with these flavoursome, vegan take on Buffalo Wings.
Recipe
With a subtle flavour, cauliflower can be dressed up in so many different ways, making them the perfect alternative to chicken in this recipe.
To make these vegan wings, follow these simple steps:
Cut the cauliflower into small florets and set aside.
Make the batter by mixing together Made with Plants Ranch Sauce, gluten free flour, plant-based milk, salt and spices (smoked paprika, sweet paprika, onion powder, garlic powder & chilli powder*).
Dip each cauliflower floret into the batter and transfer to a baking paper lined tray.
Bake the cauliflower wings for around 20 minutes before serving with extra Made With Plants Ranch Sauce for dipping.
*This recipe calls for ¼ teaspoon of chilli powder, which is quite mild. If you're all about that spice feel free to add more!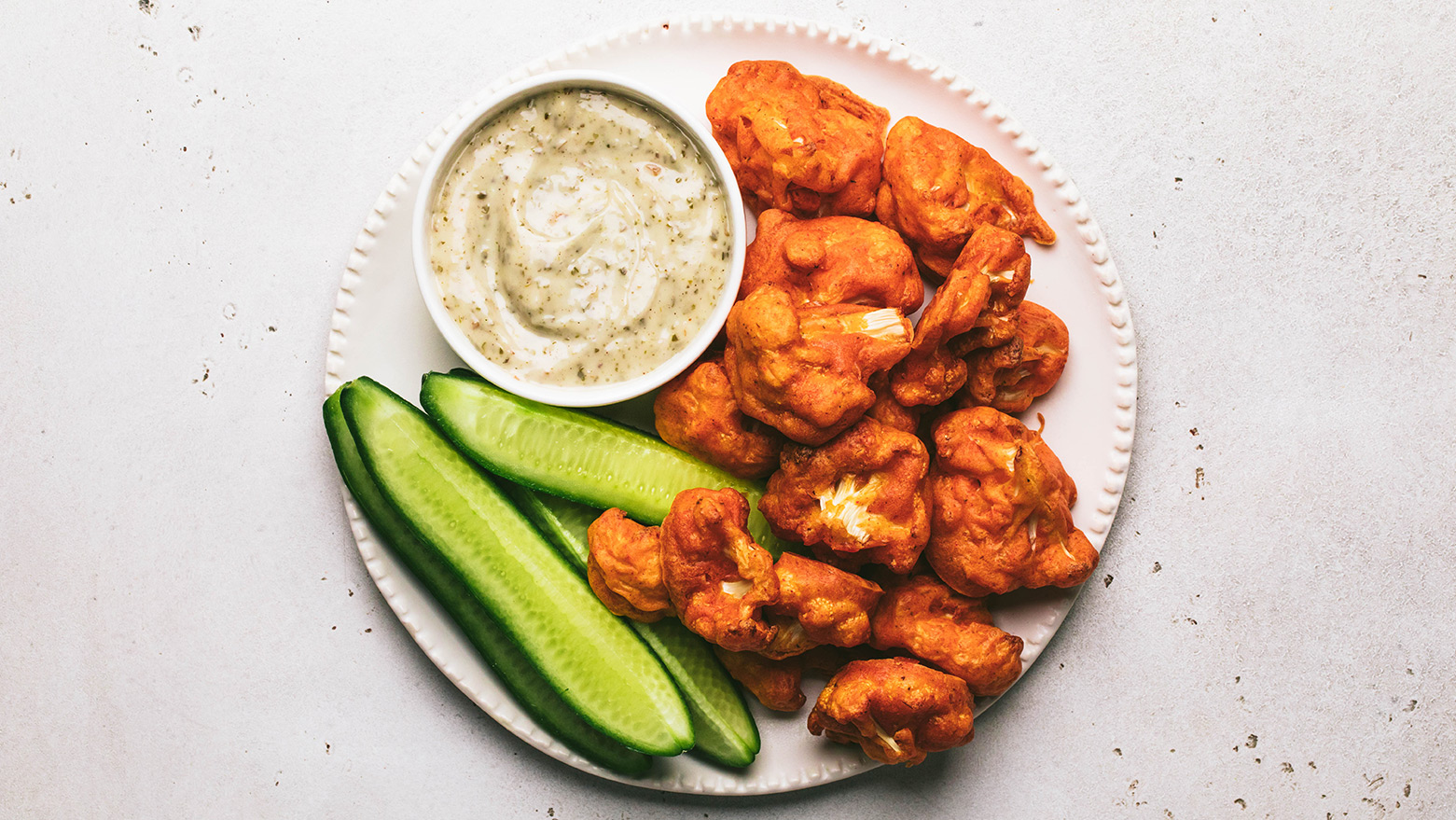 Made With Plants Ranch Sauce
We love serving these wings just as they are with a side of Made With Plants Ranch Sauce and freshly sliced cucumber crudites. But you could also serve them with:
Other raw veggies like capsicum and carrots,
Made With Plants Burger Sauce for an extra kick,
Homemade fries, or
Avocado mashed with Made With Plants Ranch Sauce.
This dish is full of healthy nutrients for maximum nourishment. Cauliflower is packed full of vitamin C, fibre, choline, magnesium and calcium.
This recipe is 100% gluten and dairy free, making it a gut friendly, easy to digest dish. These Spicy Cauliflower Wings make for a light yet full of flavour starter.
Cheese Cake Parfait
1 head cauliflower, cut into florets
1 cup gluten free flour
2 tsp sweet paprika
2 tsp smoked paprika
1 tsp garlic powder
1 tsp onion powder
1/4 tsp chilli powder
1 tsp sea salt
½ cup plant-based milk of choice
To Serve
1/2 cup Made With Plants Ranch Sauce
Preheat oven to 200 degrees Celsius and line a large tray with baking paper.
In a medium sized mixing bowl add gluten free flour, sweet paprika, smoked paprika, garlic powder, onion powder, chilli powder and salt. Whisk to combine.
Make a well in the centre of the flour mixture and pour the milk and Made With Plants Ranch Sauce into the centre of the well. Whisk to gradually combine until batter is smooth and lump free.
Add 1/4 of cauliflower florets into batter, using a spoon to coat evenly. Use tongs to pick up each cauliflower floret, allowing excess batter to drip off before placing onto baking paper lined tray, leaving an approximately 2cm gap between each floret.
Repeat with step 4 until all cauliflower florets have been battered.
Place tray into oven and bake cauliflower for 20 minutes, or until golden and crispy.
Once baked, remove from oven and place on serving plate. Pour ranch sauce into a dip bowl and position among cauliflower wings on serving plate.